Fayetteville Metropolitan Housing Authority
Fayetteville, North Carolina
Welcome to the Fayetteville Metropolitan Housing Authority. We are dedicated to providing safe, decent, and affordable housing opportunities.
We want to help you find the housing opportunities that fit your needs. FMHA serves residents in the City of Fayetteville in Cumberland County, providing housing through multiple programs including: Public Housing and HCV/Section 8. The HOPE VI program promotes independent living and helps elderly avoid unnecessarily or prematurely moving into nursing home facilities.
To view our properties, visit our Communities page.
Resident programs include Family Self-Sufficiency and the H.E.A.R.T.S Thrift Store.
Security is a primary concern for all citizens in every community. Our assisted Housing neighborhoods are not an exception. The Fayetteville Metropolitan Housing Authority has taken several measures to provide an acceptable measure of safety and security in our assisted housing communities through Community Policing.
Please explore our website and Contact Us with any questions.
Our Mission:
To promote self-sufficiency, personal growth, and neighborhood revitalization by maximizing our resources and maintaining the fiscal veracity of this agency. FMHA believes that housing is a fundamental right and the substance for a successful life. We are committed to serving the Fayetteville community in a manner that demonstrates professionalism, care, and consideration.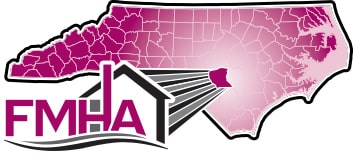 Serving the City of
Fayetteville, North Carolina
& Cumberland County